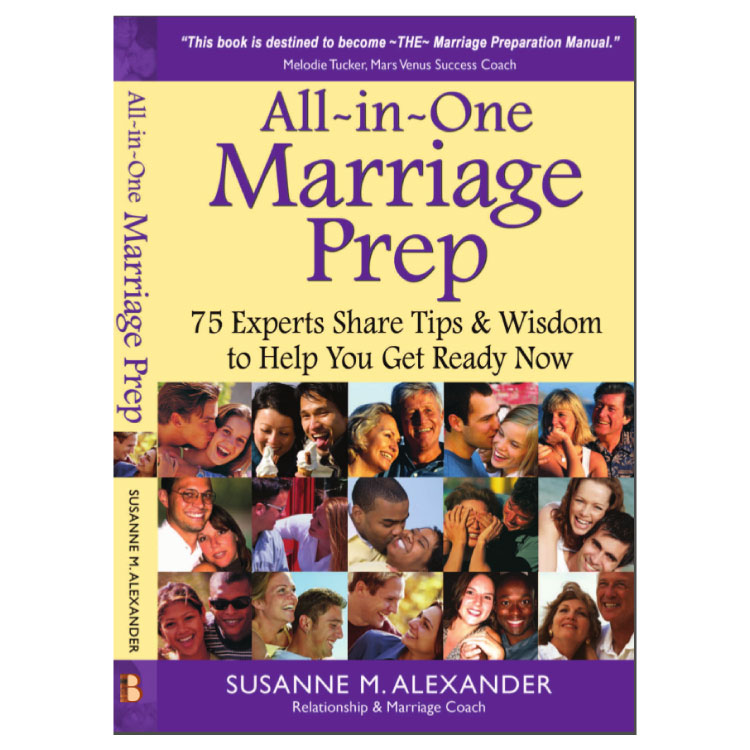 All-in-One Marriage Preparation; eBook: PDF
Delve into comprehensive marriage preparation guided by experts today!
NOTE: This comprehensive marriage preparation book is only available as a pdf eBook through Marriage Transformation. The paperback book is no longer available, as the publisher has dropped out of communication and is not paying royalties. Please do not order it from Amazon, as you may not get it. We apologize for the inconvenience. Susanne Alexander
All-in-One Marriage Prep: 75 Experts Share Tips and Wisdom to Help You Get Ready Now
*Do you want to have a harmonious and rewarding relationship?
*Are you in a serious relationship or cohabiting and talking about marriage?
*Are you engaged and planning for a happy, lasting marriage partnership?
*Are you wondering about how to be successful at marriage?
As experts who are passionate about creating excellent marriages, we invite you to engage in marriage preparation by building your knowledge and learn the skills to create your own successful marriage. Together we have helped millions of individuals and couples build their relationships and marriages in positive directions. Let us give you what you need to assess and strengthen your readiness to marry. With our guidance, you can move forward with confidence.
Author(s): Susanne Alexander (Lead Editor and Contributor)
Some of the Experts Included: Scott Haltzman, John Van Epp, Rita DeMaria, Paul Coleman, Margaret Paul, Mark Gungor, Greg and Priscilla Hunt, Sue Atkins, Linda and Charlie Bloom, Nisa Muhammad, Susan Heitler, Mark Laaser, Mike McManus, Molly Barrow, Elizabeth Marquardt, Syble Solomon, Ana Morante, Nancy Landrum, Elizabeth Einstein, and many more
See more details at www.allinonemarriageprep.com
Editorial Reviews on this marriage preparation book:
"This is an incredible book! Personally, I have been married for 34 years and have helped hundreds of couples as a Mars Venus Success Coach and a Prepare-Enrich mentor for over 12 years. I can tell you that this book is destined to become THE marriage preparation manual. So many great experts have graciously shared their collective wisdom on how couples can best get along, keep love sizzling, minimize conflict, adjust their expectations, and realize their own personal growth within the realm of relationship. Ah, now if we can only get copies to every high school and college student in the world! And wouldn't it be great to see this gem of a book as a major motion picture? Magnificent job, Susanne, what a fabulous idea this is!"
~ Melodie Tucker, Mars Venus Success Coach, Prepare-Enrich Mentor and ProConnect Specialist; www.tinyurl.com/melodietucker
"This book contains wisdom from many sources, some of it serious, some amusing, all of it valuable and useful to couples preparing for marriage. It is like getting advice from a lot of experienced, knowledgeable counselors, all in one place. It would be valuable to any couple who wants to know what it will take to create and sustain a lasting marriage."
~ Tina B. Tessina, Ph.D., aka "Dr. Romance" http://drromance.typepad.com/dr_romance_blog/; psychotherapist and author of Money, Sex and Kids: Stop Fighting about the Three Things That Can Ruin Your Marriage; www.tinatessina.com
"If we could give engaged and newlywed couples just one gift that would help ensure their success, it wouldn't be a toaster. It would be information about what to expect along their journey. We humans can do just about anything—climb Mt. Everest, walk on the moon, breast-feed twins—if we just know what to expect. This book delivers. It's filled with loving advice about what to expect in a normal marriage (or remarriage) plus offers heartfelt and helpful wisdom about how to handle the challenges that come with each stage, each milestone. It's a wedding gift that will keep on giving."
~ Diane Sollee, Founder and Director of www.SmartMarriages.com
"From the moment we began reading this book, my partner and I started talking. We were both initially a little hesitant to jump into a marriage preparation book, partly because both of us had been previously engaged and the preparation process had not worked out well. But instead of feeling awkward reading it together, it helped us realize the strength and the depth in our relationship, affirmed that we were following the right path for us, and gave us concrete steps, goals, and suggestions for heading into a happy, fulfilling, and eternal marriage."
~ Now married couple
"A brilliant book! Filled with engaging anecdotes and experts' advice, plus self-assessment quizzes that are enjoyably and ultra-effectively short and sweet, this book is a Must Read for any couples planning to marry in the near future. Pre-marital discussions must cover the serious topics—not just the design of a wedding cake or selecting napkin colors for the reception—to make a marriage not just survivable, but a place where both partners can thrive and grow and like each other as well as love each other. Susanne Alexander's new book is a priceless gift for the future bride and groom, helping them prepare for that happily ever after."
~ Sharon Naylor, author of over 35 books, including Love Bets;www.sharonnaylor.net
"This is the type of book/guidance I have been looking for. It is so well-organized, and the language is understandable and enjoyable to read. I think this is the 'gold' at the end of the rainbow! The section on step-families is remarkable. It truly highlights the things that are so very important that I never thought of, because I was not fully aware and in the "it will work because we love each other so much" mind set. There were very touchy things that were discussed with great respect and guidance on the matter. There are so many different writing styles, topics, and points of view that you never get bored with the text—it flows and is not confusing. There are ALWAYS solutions, guidance, and success stories, even if you do encounter problems."
~ F. D., in a serious relationship
Details:
Publication Date: June 7, 2010
Publisher: Barringer Publishing
ISBN: 9780982510995
Format: PDF eBook
Number of Pages: 434
Language: English