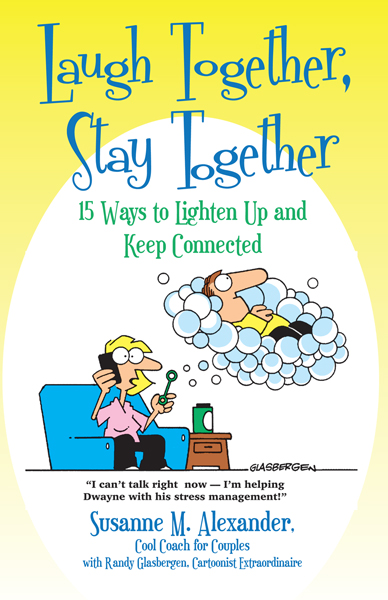 [et_pb_title _builder_version="3.0.89″ background_layout="light" /][et_pb_price _builder_version="3.0.89″ /]
Maximize your couple health and well-being today!
[et_pb_addtocart _builder_version="3.0.89″ button_alignment="left" qty_display="block" qty_alignment="left" buttonwidth="off" background_layout="light" /]
Laugh Together, Stay Together: 15 Ways to Lighten Up and Keep Connected Cartoon Book
Couples who can laugh and have fun with each other in good times and tough times create "couple glue" that sticks them together. Enjoy this delightfully funny and informative cartoon book. You will find great ideas for laughing and staying together. Excellent for couple enjoyment and discussion or as a "greeting card" along with a wedding or anniversary present.
Praise: "This book is a dose of laughter for the heart. What a joyful book." ~ Kerri Pomarolli and Ron McGehee, married comedians
"Laughter is a choice in relationships and marriage. If you choose to reflect on the absurdity of your circumstances, if you gain the discipline of looking at the lighter side of life, you can smile in the face of adversity and joyfully eradicate tension." ~ Mark Gungor, Author of Laugh Your Way to a Better Marriage
Details:
Publication Date: June 2014
Publisher: Marriage Transformation
ISBN: 978-1-940062-03-7
Format: Paperback
Number of Pages: 24
Language: English
Dimensions: 5.5 in x 8.5 in
Shipping Weight: 0.5 oz
Note: Each page has a cartoon by internationally renowned cartoonist Randy Glasbergen (www.glasbergen.com) and two sentences of relationship coaching by Susanne Alexander. For example:
Pay close attention when arriving and leaving. Remember to be flexible and fun in creating connections.
[et_pb_reviews _builder_version="3.0.89″ /]