Helpful and Educational Coaching

Do you want:
A relationship or marriage that is a unified, happy, and fulfilling partnership?
To improve the communication and interaction patterns between you and with others?
Help strengthening your practice of character qualities with your relationship or marriage partner?
To assess whether to go forward with confidence or hit the pause button?
More knowledge and skills to be effective in a relationship or marriage?
Relationship, Marriage, and Character Development Educator and Coach Susanne M. Alexander is ready to collaborate with and accompany you.
Reach out today to connect with her honesty, insightfulness, and compassion! Susanne is skillful at matching you up with learning resources that help move you forward. Keep reading for more information on coaching options and educational approach, or contact me now by clicking the button below!!
To invite Susanne to work with you,  Click Here

General Information for Everyone
About the Process: Educational coaching focuses on building knowledge and skills for healthy individuals and couples. It is not counseling or therapy. We begin with where you are at now and move you forward in your life and relationship. Being a successful client with this type of coaching requires that you commit to studying between sessions and trying new behaviors. Susanne's approach tends to include spiritual perspectives; these can be tailored to a specific faith as needed.
Susanne works with:
Individuals who want to be in a relationship, and
Individuals and couples committed to their relationship or marriage who need help to assess and strengthen their interactions
She can recommend potential materials to seriously troubled couples, but she will refer you to a counselor for in-depth work.
Individual and Couple Sessions generally occur by Skype, Facetime, Google Hangout, telephone, and email.
Cost: The cost is $90/hour except in cases of strong hardship. Usually clients also require some materials and books, and these will generally be invoiced as used. Sessions can be any length as needed from 15 minutes to 2 hours. Frequency is determined together. There is no insurance reimbursement.
Payment: Assessments, sessions, and materials are invoiced via PayPal. You can pay through a PayPal account or a credit card; an account is not required. Prompt payment of the invoice is required.
To Begin: Send an email to Susanne at susanne@marriagetransformation.com or through the contact form on the site with a request and brief description of services needed. She will provide a client information form to complete and arrange for an appointment. Susanne does her best to respond within 24 hours. If you need service faster, please call or text 423-599-0153 (US Eastern time, 9 a.m.-8 p.m.).
Who Is Relationship and Marriage Education for?
Unmarried Individuals
Relationship Education and Coaching for you can include:
Helping you know your character and yourself and identify and grow your strengths
Providing you with tools to assess the character of a relationship partner or potential spouse
Building your knowledge and skills for having a successful relationship or marriage, especially those related to communication
Helping you identify what blocks your success, and collaborate with you to achieve a breakthrough
"Susanne's supportive, non-judgmental, and loving demeanor was very encouraging for the both of us. It feels like we both gained a friend who will always help and support us in our marriage." ~Premarital Couple clients 
Married Individuals
Marriage Education and Coaching for you can include:
Building your knowledge and skills related to challenges you are experiencing
Strengthening your communication skills
Strengthening your character qualities
Referring you to other helpful resources
"I am so happy! WOW. You have transformed our marriage by simply working with me. He has been reading and doing the exercises you map out with me, and all I can say is thank you, thank you, thank you. I have the man and marriage I always wanted. My dreams of my relationship with him are coming true. I feel a closeness and friendship with him that has been missing this whole time. It is fantastic. I am so grateful I found you. What a miracle. Miraculous results is what you produce. Our family is happier and healthier than it has ever been. Thank you from the bottom of my heart." A. D., client
Note: This client made this progress with 15 minutes of coaching every week and a regular commitment to spend 15 minutes most days connecting with her spouse and often studying marriage and communication materials together. Can you commit to 15 minutes every day to nurture your marriage?
Unmarried Couples
Relationship Education and Coaching for you can include:
Identifying what you want in a partner and what you bring to a relationship or marriage
Assessing character in individuals and compatibility in partners
Determining your potential for having a successful marriage
Confidence and clarity about approaching parents for consent to marry if you plan to do this
Knowledge and skill building for a successful marriage
Pre-Marriage Readiness Assessment: Build your confidence as a couple that you are truly ready to marry each other by taking a comprehensive research-based assessment online (30-45 minutes) and then participating in helpful and insightful coaching with Susanne Alexander, Relationship/Marriage Coach and Educator and author. Taking steps to learn how to be excellent at marriage and prevent divorce is a great and cost-effective investment in your happy future!
This Amazing Package includes:
PREPARE Couple's Report (#1 relationship inventory and couples assessment; research-based; taken by 3 million couples)
Approx. 3 hours of comprehensive facilitated discussion of report (By Skype, FaceTime, or telephone)
Couple coaching throughout
Susanne's researching and customizing of self-study materials and self-study recommendations
Details on character qualities
Some no-cost educational materials including a PREPARE workbook
Some e-books at a small additional cost
Note: If one or both of you are members of the Baha'i Faith, it is best if this process happens before you request parental consent to marry, although this is not a requirement.
Married Couples
[Note: Seriously troubled and separate couples couples generally will be referred to a marriage counselor depending on the nature of the issues involved.]
Marriage Education and Coaching for you can include: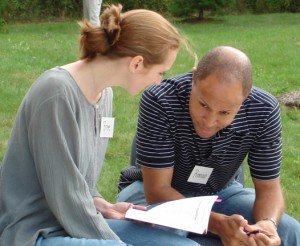 Detailed assessment of your marriage strengths and growth areas
Systematically going through materials and discussion
Building knowledge and skills
Ways of transforming your couple interactions
Addressing specific areas of concern
Positive affirmation and encouragement
A pro-marriage and divorce-prevention focus
Couples' Assessment Process

Couples can choose to participate in a detailed assessment process. The PREPARE (unmarried) and the ENRICH (married) assessments identify each couple's unique strength and growth areas. They generally cover these areas:
Commitment Level & Expectations
Relationship Dynamics/Styles & Habits/Personal Stress Profile/Personalities
Communication
Conflict Resolution
Spiritual Beliefs
Character Traits
Cultural/Ethnic Issues
Financial Management
Leisure Activities
Closeness & Flexibility in Couple and Family
Sexual Expectations/Issues
Children/Parenting
Family & Friends
Retirement and Aging Issues (where applicable)
Process: You provide Susanne with the names and email addresses of both people who will participate. You will receive an email link to an online assessment that you do individually without discussing it while in progress. It takes about 30-45 minutes for each person. After you have both completed the assessment, Susanne will be notified that your reports are ready. You will receive a couple's report when you begin to discuss the content, which is a subset of Susanne's facilitator report, and a couple's workbook.
The report will give Susanne a good view of the current state of your relationship or marriage and where strengthening and learning are needed. Then you will set up an appointment. You will talk through the results of your report and set learning goals for what you want to improve. Couples have learning and activity work to do between sessions. Some materials are no cost, and some have a small charge.
Time required: It takes about 30-45 minutes for each person to answer the assessment questions. Coaching that follows is generally like this: Premarital couples-about 3 hours. Married couples usually require a series of sessions over time.
Cost: The initial report is $50. Sessions are $90/hour except in cases of strong hardship.
Note: PREPARE/ENRICH is a scientifically proven process that has helped over 3 million couples for over 30 years. Susanne customizes her work with couples from a foundation of the facilitator report and discussion with the couples by adding her own developed materials.